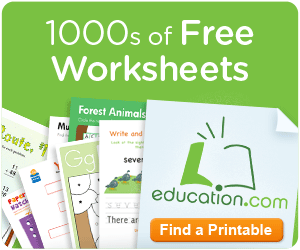 If you are looking for educational materials to use at home, then register for a FREE account with Education.com. You'll be able to print off 10 FREE worksheets/printables a month!
There are more than 15,000 different printables available that range from preschool through high school and that focus on subjects like math and reading. Plus, there are free coloring pages and printable board games.
I regularly use Education.com as I gather preschool worksheets for the week I teach preschool, or if I just want something fun, yet educational, for my daughter to do.